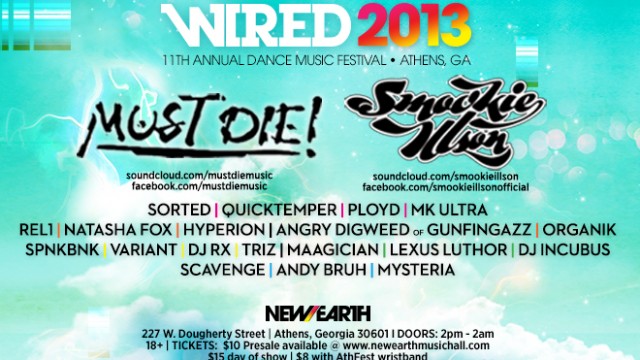 06.22.13 Dash Productions and Tecropolis present: Wired 2013 at New Earth Music Hall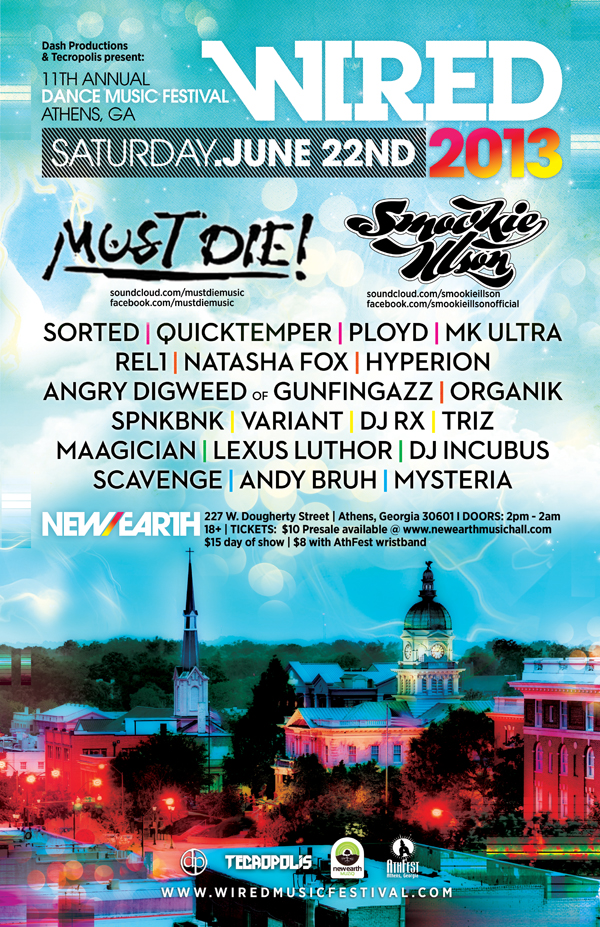 Wired 2013.
Wired Music Festival is back for its 11th year at AthFest. Wired was conceived as a vehicle for DJs and producers to push their respective genres to the forefront with no artistic restrictions. It has since grown into the premier electronic dance music showcase in Athens, Ga, featuring a mixture of newcomers and veterans from the region.
Headlining Wired 2013 are Must Die! and Smookie Illson:
+ Must Die!
http://soundcloud.com/mustdiemusic
http://facebook.com/mustdiemusic
http://twitter.com/mustdiemusic
Somewhere at any given time in the universe, there is a blue-eyed, incredibly obnoxious, 21 year old boy. It just so happens that this particular boy is MUST DIE!
Coming into being in 2011, Lee Bates is an electronic music producer from Atlanta, GA with a focus on capturing the essence of childhood, manic depression, bad anime, and sleep deprivation. Utilizing bass music as a medium to express these wonders/horrors, he has captured the attention of several veteran DJ's and producers in the dance music scene. With an astounding amount of music in his vault, and releases on Ultra, Firepower. Dim Mak, Subhuman, Play Me, Mad Decent and Atlantic records, MUST DIE! is a human factory of quirky dance-floor smashers and anthemic, arena sized melodies and leads. Not to mention music that is reminiscent of being lost in an 8-bit jungle with a high-grade fever while eating sour candy.
At the end of the day, MUST DIE! is a well rounded, oddly engaging, slightly charming, horrible awkward mess of a human with an affinity for creation.
+ Smookie Illson
http://soundcloud.com/smookieillson
http://facebook.com/smookieillsonofficial
http://twitter.com/smookieillson
Smookie Illson is a collaborative music project aimed at injecting the dance scene with a distinct take on bass music. 'Drop It Low', the first EP by the secretive trio was quickly snapped up by James Amato's Potty Mouth Music and released in the fall of 2012. It's fusion of ideas – a combination of electro / complextro house beats and melodies with hip hop swagger and low end bass – would become a template for their early output. In addition to original tracks, like 'Back Up' and 'What U Gun Do', and collabs, like 'Iced Out' and 'Out of My Mind' with Milwaukee's Knuckle Children, Smookie Illson has released reworks of music by artists as diverse as Deekline & Ed Solo, J-Trick, Ree$e, Porn & Chicken & DJ Assault. Their bootleg of 'Club Action' by Florida's Yo Majesty! has been a fixture in playlists worldwide, even getting play at Coachella 2013 by Baauer!
Most recently, Smookie Illson released the 'First Bass' mixtape through Complex Magazine's affiliate music blog www.DoAndroidsDance.com. The 14 track mix compilation boasts all original production, serving as a de facto primer of the trio's music. Team Smookie then traveled to Miami Music Week for an appearance at the 'Hotcakes vs Illeven:Eleven' event, opening the gates for more DJ performances in their future.
Besides several studio projects, they are in the process of laying the groundwork for their own imprint, Ill At Will Music, an outlet for quality 808 bass music by like-minded artists worldwide.
—
Hit up the Facebook Event