03.20.10 Tecropolis: Heavy Wieght Bass Champions at New Earth Music Hall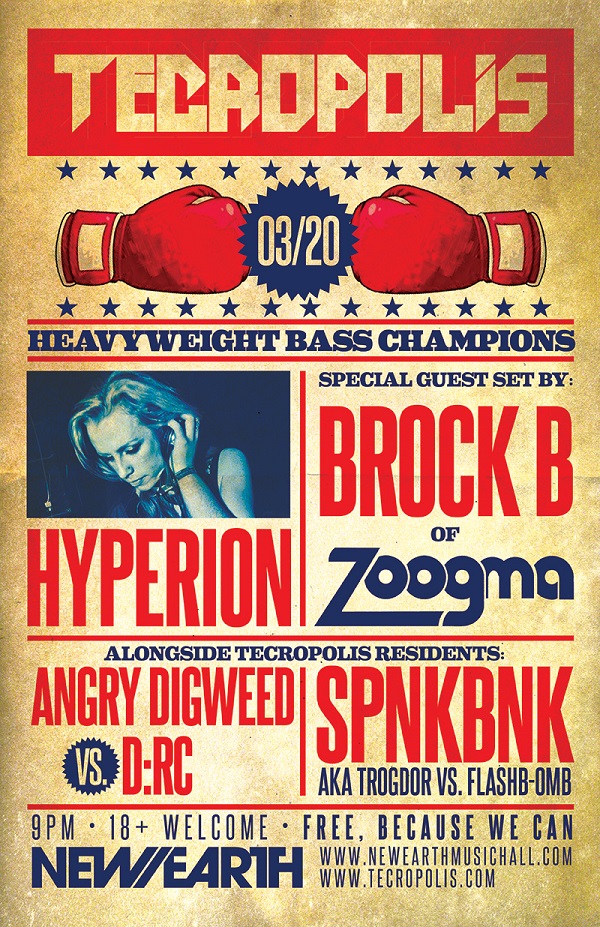 Hyperion:
is a 19-year old producer and DJ from Manchester, England. Currently residing in Atlanta, GA, Hyperion is known for her love of Drum and Bass and the skill of music she brings to the table every time she spins. Since beginning in September 2011, Hyperion has graced the stage with the likes of Emalkay (special Tag sets), Original Sin, Ming, Reid Speed, Gambit, Aphrodite, Terravita, Gein, Xkore, Darth and Vader, Ajapai, Kilo Ali, Vaski, Bro Safari, Legion and many more. She also earned the title of Wobble House's 2012 Billionaire Bass Brawl Winner, competing against some of the finest DJ's in the city of Atlanta. Hyperion has been featured in Revolver Magazine, coming in 5th on Sluggo's list of "Hottest Females in Dubstep" alongside with Reid Speed and Dirty Talk. She is sponsored by Endorphin Apparel and has featured on various radio shows such as ATL-based 'EDM Outbreak'. Hyperion is a resident DJ for the renowned Atlanta Bass Wars, and also has residency with UK-based radio stations Filth FM DnB and AfterDark Radio.
From an early age, music has been the foundation for Hyperion's life. As a classically trained concert pianist, organist and band member, she pursued her early dreams and achieved the level of a music degree at the tender age of 13. With these strong classical roots, Hyperion branched out to experiment with those different sounds created electronically. Falling in love with strong basslines and haunting melodies, she set out to bring her own knowledge into 21st century music.
As a DJ, Hyperion has the ability to keep a crowd on their toes from beginning to end. She is one of few females that has put her stamp on the Atlanta EDM scene, rising quickly as a fierce producer and DJ. Staying true to her English roots, Hyperion is a Drum and Bass goddess, taking you from hard-hitting, deep bangers to the more melodic liquid vibes. Multi-genre sets are her forte, with Drum and Bass, Fidget, Hardstyle, Breaks, Glitch, Funk, Electro Swing and Dubstep being favorites. Hyperion has played festivals such as Alphapalooza(TN) and has played many shows all over the US, and also the UK. Her goal is to share her love of music and just make people dance! As a producer, Hyperion has a unique style and sound that is sure set her apart from producers of her generation. At the age of 19, Hyperion is showing raw talent and taking it to the next level, gaining support from many big names in the music industry. Hyperion will be touring in Summer 2013 (US, UK, EU) so make sure you catch her in your city! This red-headed musical genius is a force to be reckoned with. Prepare yourselves for Hyperion to take over the world.
facebook.com/HyperionUK
soundcloud.com/hyperionuk
+ D : R C
facebook.com/drc.bass
+ X B as A N G R Y  D I G W E E D
xbspinspsytrance.com
facebook.com/AngryDigweed
+ T R O G D O R
soundcloud.com/djtrogdor
+F L A S H B – O M B
soundcloud.com/xxflashbombxx
This is the place to hear up front dance music with no fuss. Intimate setting, cold drinks, good sound. All this for FREE! (Because We Can)
18+ welcome. Doors: 9pm
Stay in touch with our events: facebook.com/tecropolis